M/S Gustaf Wasa
M/S Gustaf Wasa was build 1876 and she is still cruising on the beautiful Lake Siljan in Dalecarlia, Sweden.
About the ship M/S Gustaf Wasa today

You embark at the foredeck. Ahead is the foc's'le, the wooden deck where you can sit in the sunshine. You can also take the ladder on the starbord side to take a seat outside on the side decks or aft, or go inside to the upper saloon

Most passengers take the main entrance into the restaurant for coffee, lunch or dinner. You order directly from the tables. Here is also a bar with beer, wine, liquor, candy and postcards. Wheelchair is no problem in the resaurant. There is also a handicap toilet.
A few steps up is aft deck where the dancing place is during evening cruises.
One deck down aft is toilets and coat hangers.

A stairway leads up to the saloon on upper deck. A little smaller than the restaurant below, a popular place for companies or family dinners.
On upper deck is also hte wheelhouse where the skipper work.
All passenger spaces are warmed up, so cold autumn evenings are nice on board.

The galley where we cook the food that we serve is located on the lower deck. The galley is small, but wery well-equipped. A food lift transports the food quick up to the restaurant.
On lower deck are also fridges, freezer, stores and locker room for crew.
In the engine room are two main diesel engines from from Volvo Penta, one to for each propeller, and a auxiliary diesel engine for electric power.
Length: 30 m. Width: 5,3 m. Draught: 1,9 m. Max 110 passengers..
Crew: 3, skipper and 2 deckhands plus personell in restaurant and galley.
Swedish Maritime Administration syrveys the ship, the shipping company and the crew to keep up high safety.
The ship is owned by a foundation ownd by the cities Leksand, Rättvik and Mora.
Gustaf Wasa is a historical very interesting ship and is national monument protected!
History
1876 – 1914

The early steamboat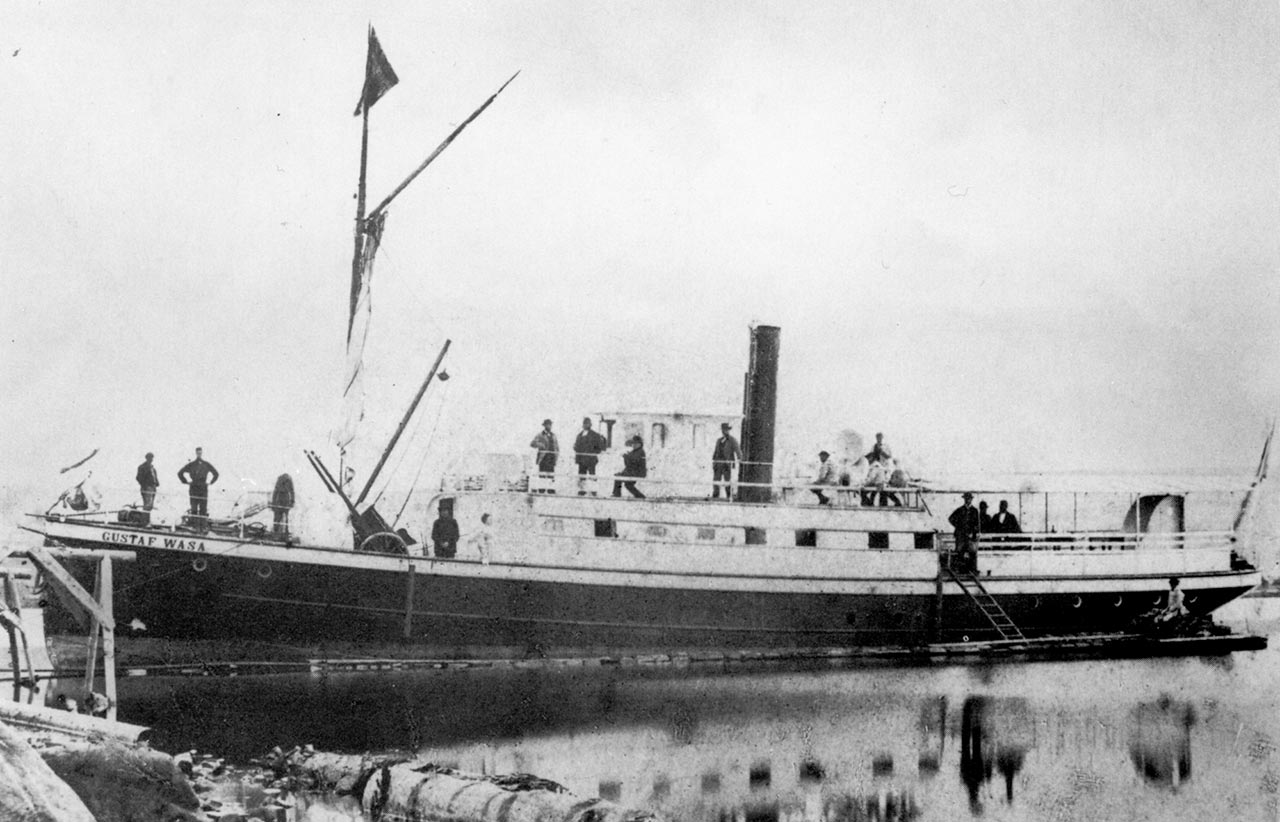 Gustaf Wasa in Orsa sometime 1876-1878. This is the oldest known photo of Gustaf Wasa. Unknown photographer
The steamship S/S Gustaf Wasa was built 1876 by Stora Varfvet (Great shipyard) in Stockolm. She was transported in three parts by railway to Borlänge, then by men and horses to Insjön, where she was put toghether and launched in the river april 29 1876. The hull was from the beginning black or dark blue. The accomodation amidships was low with rounded sides. On upper deck was only a small wheelhouse. Crew cabin was under foc's'le and a luxury saloon was under deck aft. Between accomodationand foc's'le was a heavy mast with a cargo boom and a steamwinsch. Under the foredeck was a cargo hold. In engine room was a scottish boiler with two fire places and two steam engines, toghether 32 horsepowers. Twin screws.
She transported both passangers and cargo and sometimes even cattles from Gråsta in the river Dalälven i the south to Orsa in the north and several small steam boat bridges between.
In the beginning of the 1890th the hull was painted in light grey.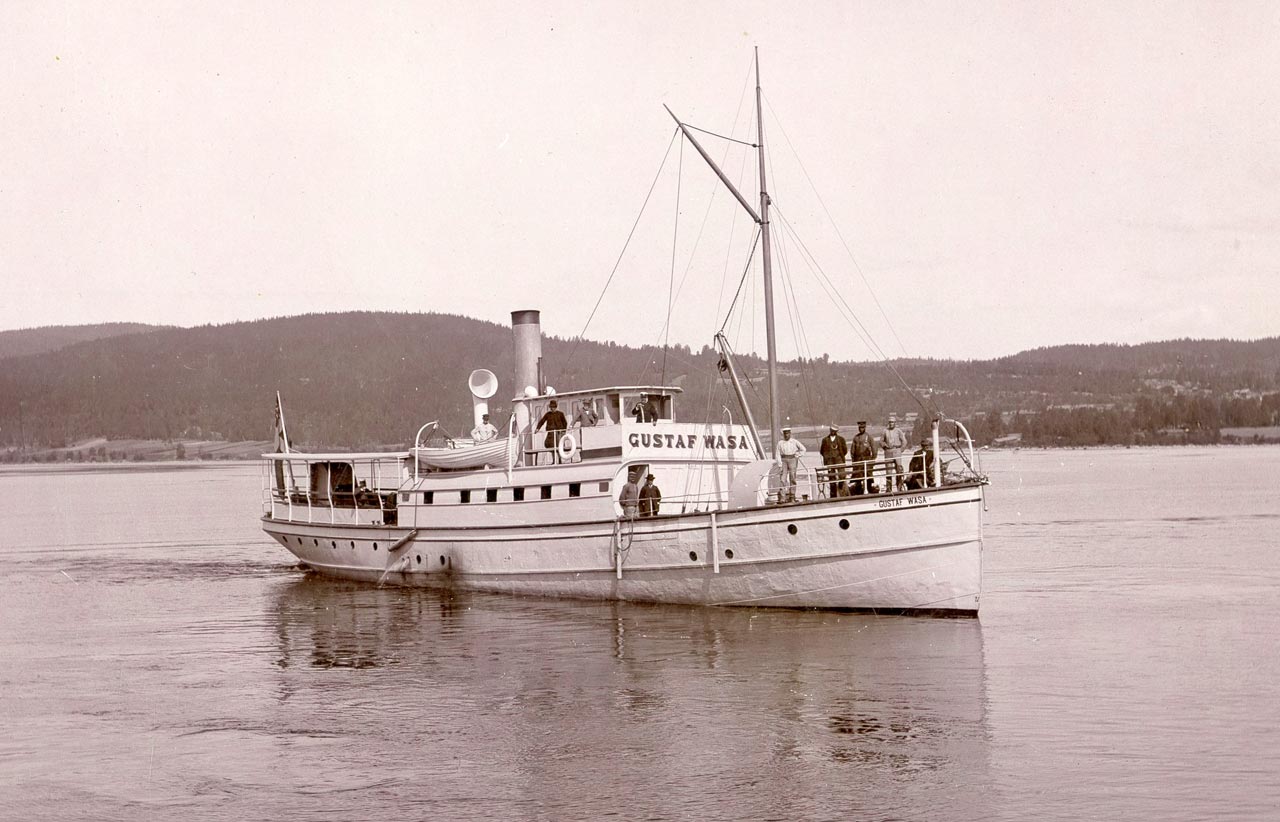 Hull in a light color sometimes between 1879 and 1892. Photo: Gerda Söderlund.
1897 two new steam engines of compound type was mounted. 130 horsepower together, manufactured by Hernösands mek. Verkstad.
Top speed increased 2 knots to 12 knots.
1914 – 1925 The Passanger Steamer
As early as 1890 the railway came to Rättvik from Falun and 1896 to Mora. 1914 the train came to Leksand. Now the main part of the cargo in the Lake Siljan area was transported by railway and Gustaf Wasa was now only for passengers. In 1914, a number of changes were made to Gustaf Wasa. The superstructure was extended ahead and the windows became more and larger. The wheelhouse was made larger. The mast with derrick boom was replaced by a smaller mast. The aft deck was still open. The whole ship was now painted white.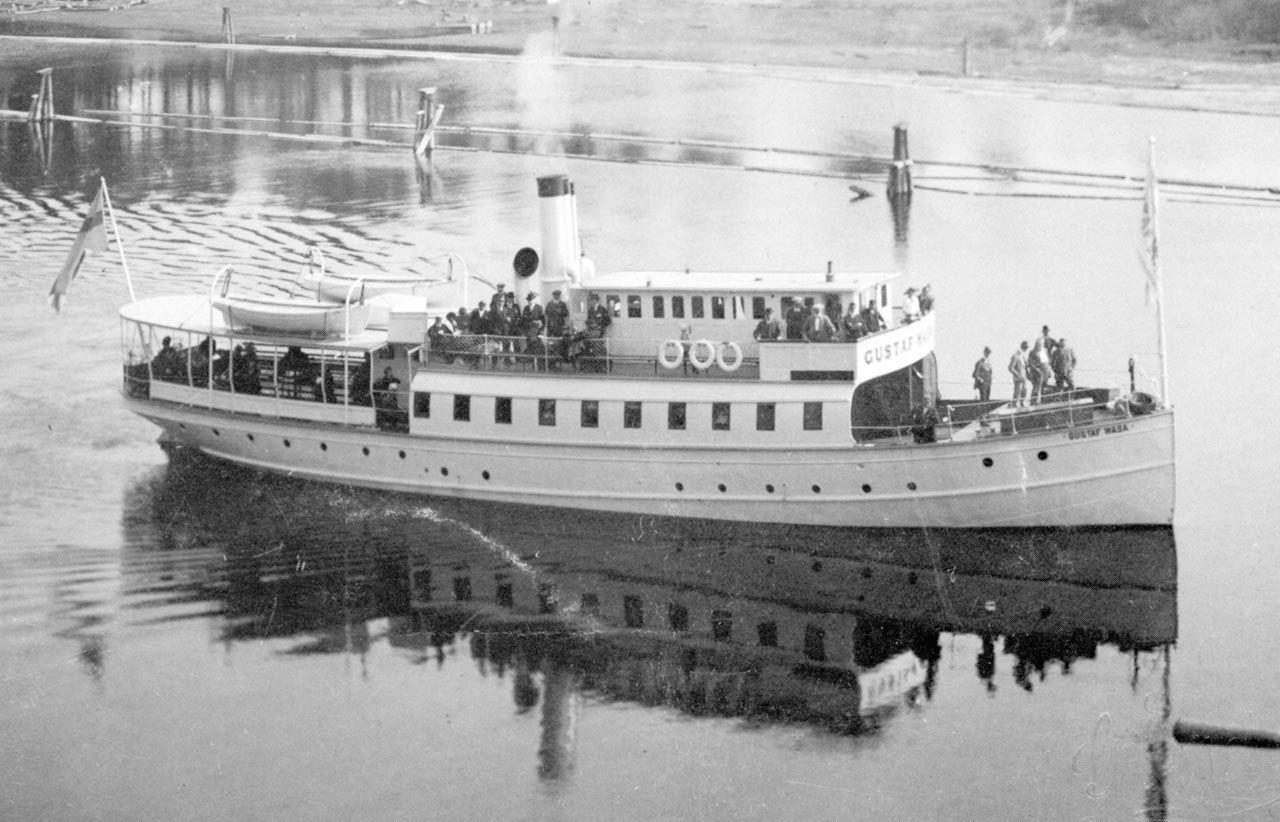 1914. Unknown photographer.

1926 – 1957

The model for today's Gustaf Wasa
At the next modernization, Gustaf Wasa got the look that represented the model of today. The sides were straightened out and the aft deck was partially built in. Roof over the entire upper deck. It is uncertain when the conversion took place, but not later than 1926.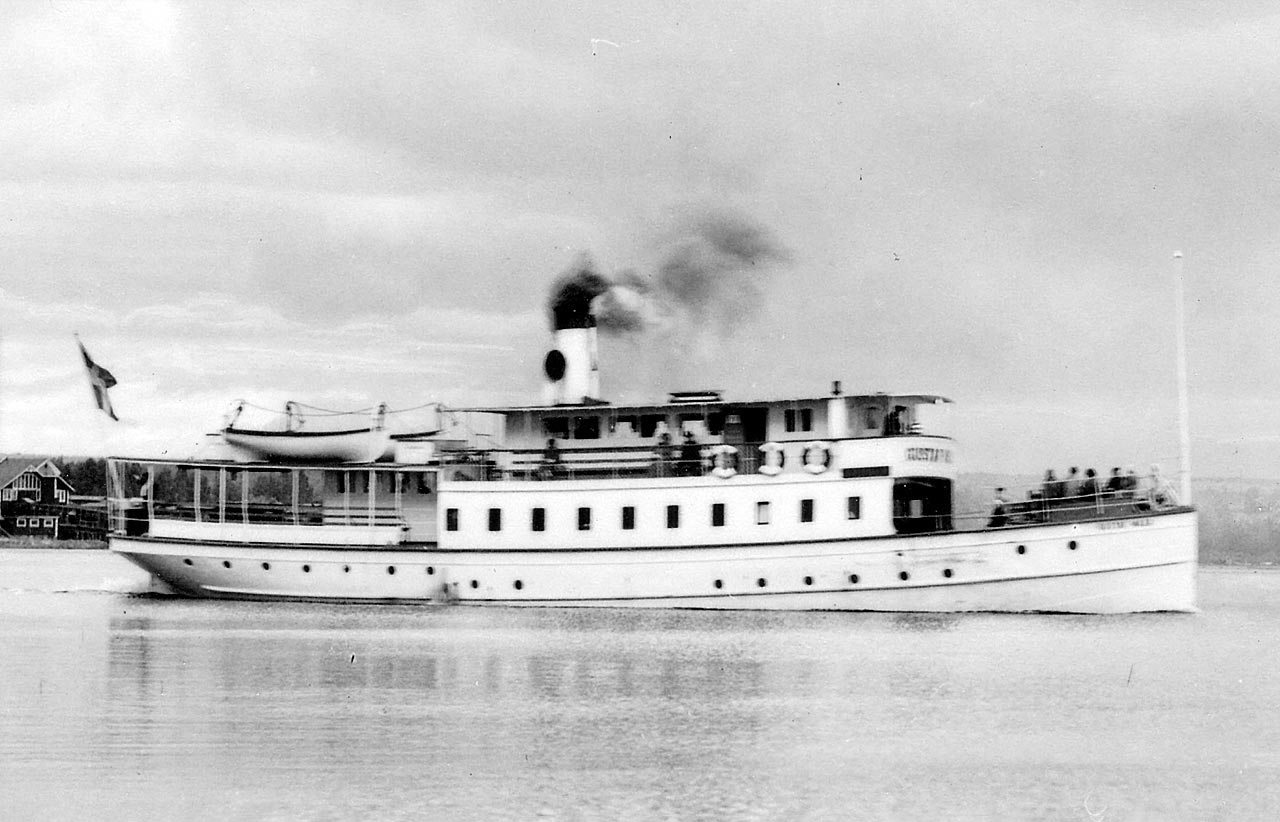 Gustaf Wasa at the Bay Saxviken in Mora. Very similar to today's Gustaf Wasa. Photo: Veine Ljungcrantz.
1958 – 1982 The Tourist Bus
The boat traffic was from now only sight seeing cruises for tourists.
To the 1958 season, S/S Gustaf Wasa was changed to M/S Gustaf Wasa when she was rebuilt as a motor vessel. Two Hercules diesel engines were mounted. At the same time, aft decks were built in completely and the steamboat chimney was replaced by something that looked like a metal bucket. In 1964, the bridge was glazed-in entirely. Gustaf Wasa looked like a bus!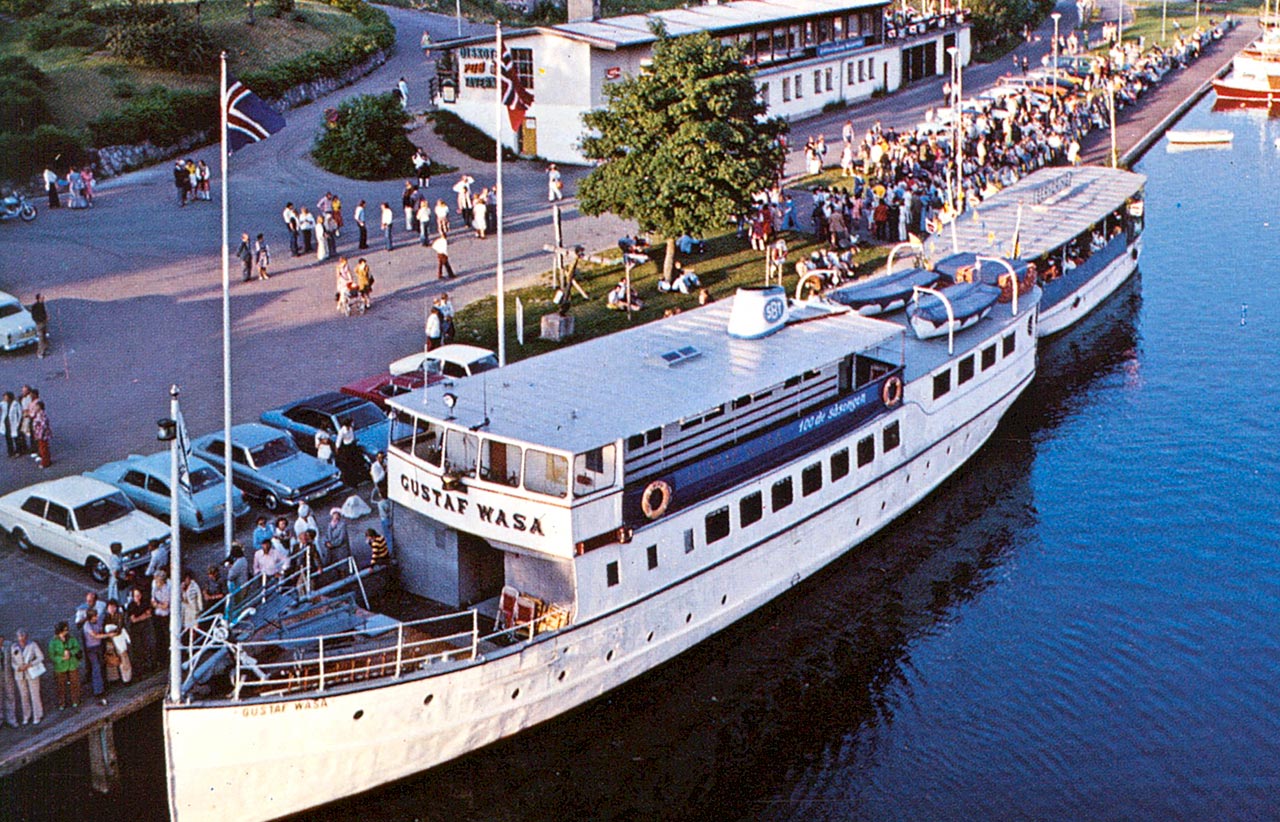 In port in Leksand, probably sometime in the 70's. Photo: Harry Lange.
1982 – 1984 Fire and total renovation
In the autumn of 1982 Gustaf Wasa was caught on fire during work on slip in Övermo, Leksand. Almost everything except hull and engine room was destroyed. A large fundraising campaign was started and the work of getting Was'n back in good condition started almost immediately. In 1983 a cruise was made around the Siljan in half-finished condition.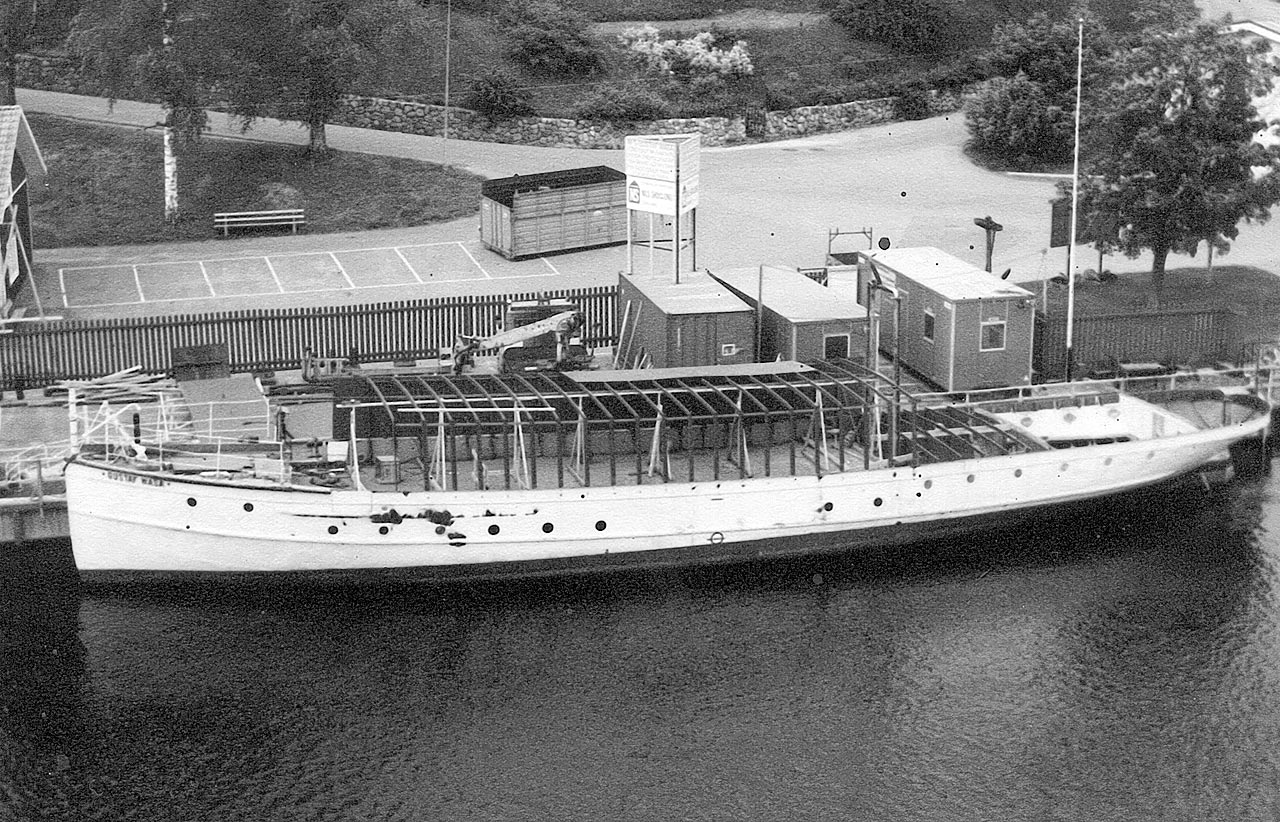 Total renovation at quay in Leksand. Unknown photographer..
1984 –

Today's Gustaf Wasa
On June 1, 1984, Gustaf Wasa was re-opened. Now she looked again like a real steamboat, despite the diesel engines. Inspired by how she looked recently under steam, but with some concessions for the practical and maritime administration's requirements.
The iron hull from 1876 has been fitted with a new superstructure of aluminum and the interior was built of veneer and hardwood. A complete restaurant kitchen, dumbwaiter and a disabled toilet are some details. The result was a truly beautiful ship, appearance-old but modern and expediently equipped. At the bridge we now have modern navigation equipment, eg. radar, depth sounder and electronic chart with GPS. For best security, we use a computer without Windows for navigation.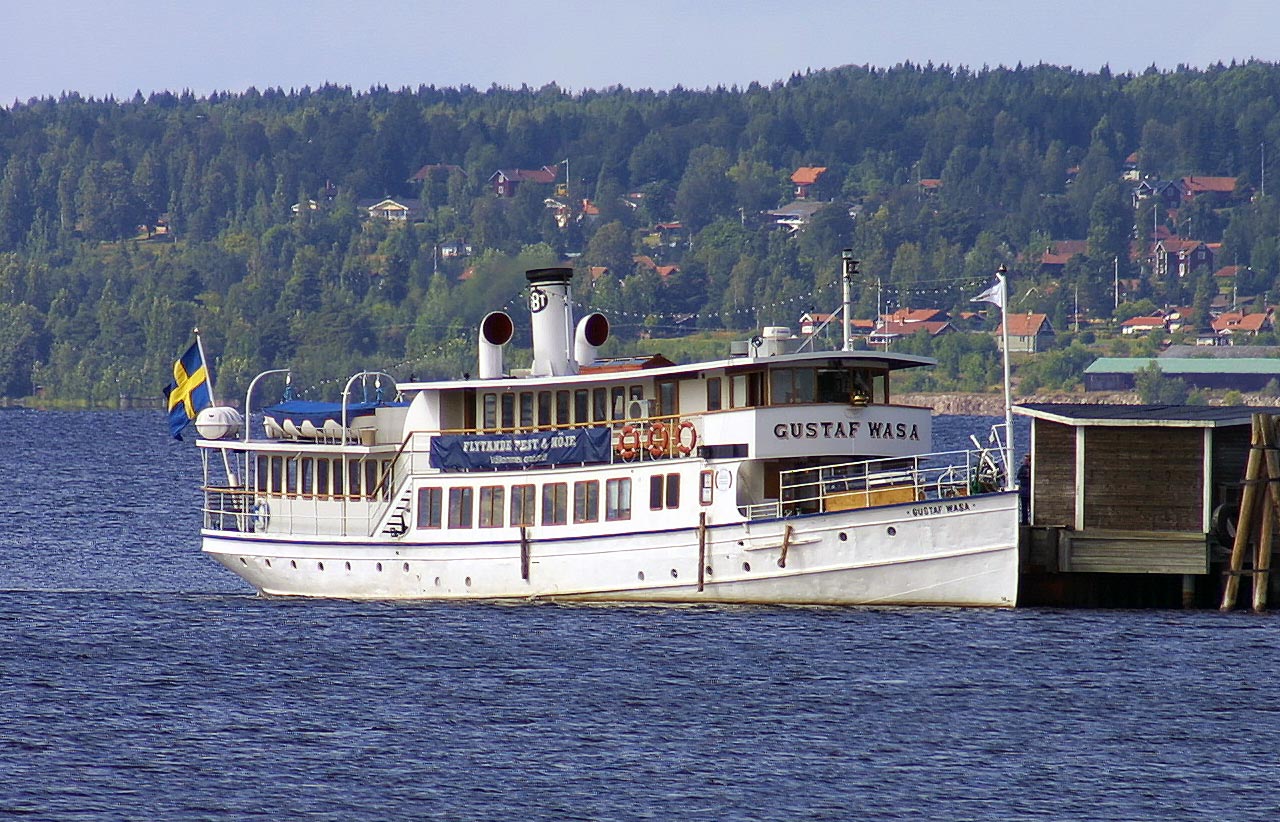 Gustaf Wasa in today's design.  Photo Erik Jalking.
Gustaf Wasa has every summer since 1876 been at sea on Lake Siljan!